Dutch Oven Beef Ribs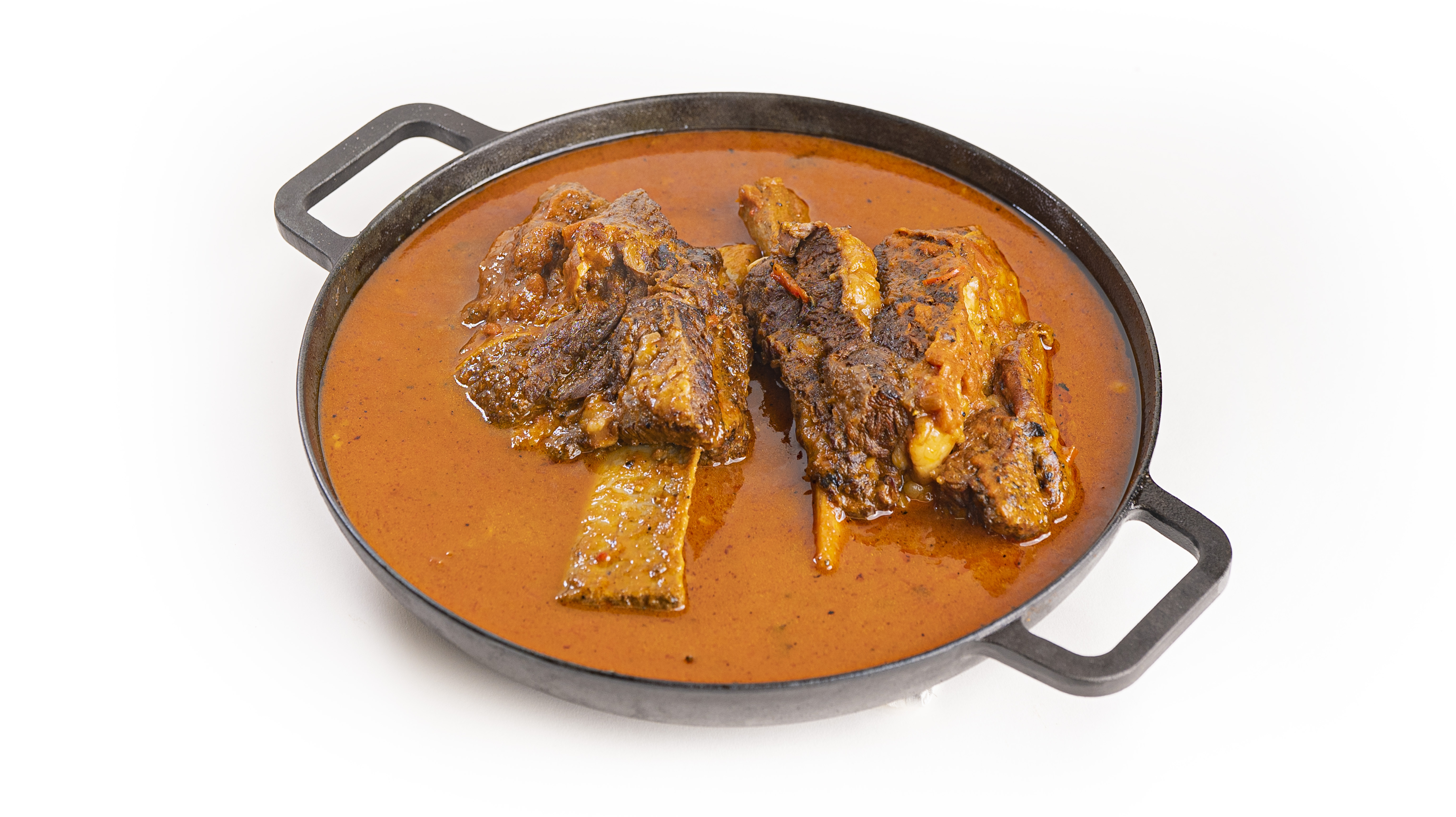 Slow-cooked beef ribs are a classic comfort food that never fails to impress. By searing the beef ribs on a hot plate before transferring them to a Dutch oven for long and slow cooking, you can achieve a depth of flavor that is simply irresistible. The searing process helps to caramelize the meat's surface, resulting in a rich and complex taste that will complement the tender, fall-off-the-bone meat that you'll get from slow cooking. This recipe is perfect for a weekend dinner or special occasion when you want to indulge in a hearty, flavorful meal that will leave your taste buds wanting more. So, let's get started!
Short
Let me show you what this recipe is all about.
You can find the full instructional video at the end of this page.
Ingredients
1,5 kg / 3.3 lbs Beef Rib

2 bell peppers

3 red onions

6 tomatoes

30 grams / 1 oz chipotle in adobo sauce

7 cloves garlic

50 grams / 1.7 oz butter

700 ml / 3 cups sieved tomatoes

700 ml / 3 cups water

2 bay leaves

1 tbs cumin seeds

4 tbs all purpose flour

8 small tortillas

300 grams / 10 oz shredded gouda cheese
Tools
Thanks to Chad-O-Chef for sponsoring this recipe Visit their website to learn more.
How to
Perfect Dutch Oven Beef Ribs
Slice the beef ribs in 2 individual ribs and keep the membrane on the back. Make the PitmasterX's BBQ Beef Rub and season all sides with the rub.
Chop up some bell peppers, red onions,tomatoes, fresh cilantro, garlic cloves and some chipotle peppers in adobo sauce.
Fire up the Chad-O-Chef Boma with some small timber and 3 fire starters as kindle.
When you have a small fire going and the timber burned up, put in a couple of bigger log's to get a bigger fire going.
Once the plate is hot, pour some sunflower oil over the plate and spread it out with a piece of cloth.
Sear the bell peppers, red onions, tomatoes, garlic cloves and chipotle peppers in adobo sauce on the hot plate.
Meanwhile warm up your Skottsberg pan in the center above the fire.
Add the grilled ingredients to the pan once everything is picked up enough flavor from searing.
Add 700 ml of sieved tomatoes, 700 ml of water 1 tbsp cumin seeds, 2 bay leaves, 5 cloves and
2 tbsp of beef rib rub and let it simmer with the lit off.
Sear the beef ribs on the hot plate with some butter to create as much of texture on the ribs as possible.
Dust your ribs in a 1 tbsp of all purpose flour while searing to multiply the crust.
Put both beef ribs in the pan and let it simmer with the lit on for around 2 hours.


Beef Ribs Tortilla
Slice the beefribs into strips.
Put a small hand of shredded cheese on the griddle plate and put a small fitting tortilla on top and press it down.
After 20 seconds the cheese is sticking together it's time to flip it so that the cheese points upwards.
Put some beef and sauce on top and fold it. That's how you make the perfect beefribs tortilla.
Watch full video